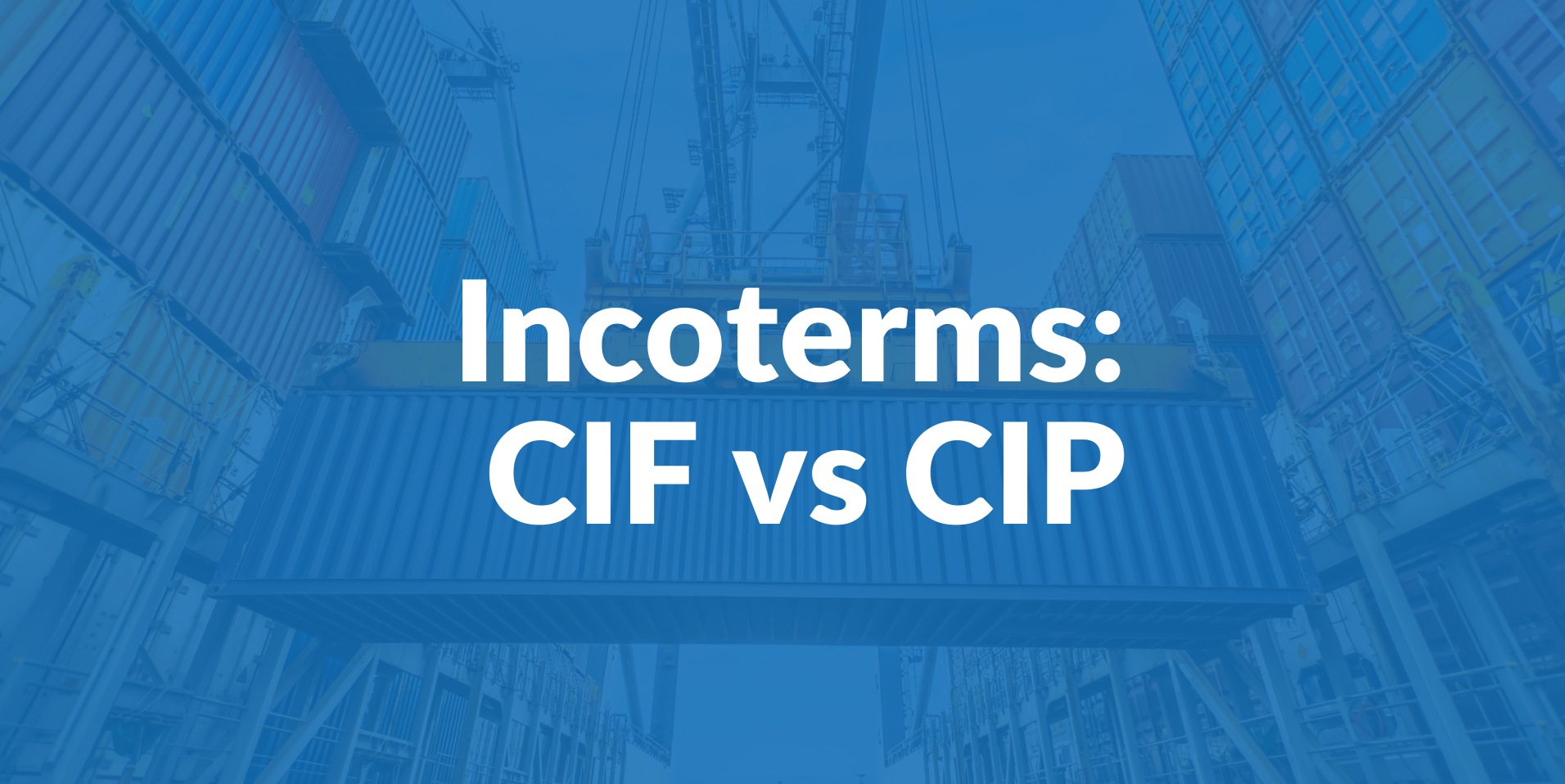 When it comes to moving goods from one country to another, international shippers and exporters should know about Incoterms. Incoterms are a collection of agreements defined by the International Chamber of Shipping that cover all aspects of coastal and inland waterway transportation terms and define responsibilities for both parties in an agreement.
Traditionally, CIF (Cost, Insurance & Freight) and CIP (Carriage & Insurance Paid To) terms were used when exporting or importing cargo; but these days they're often combined into one agreement.
What is CIP? Meaning
CIP stands for "Carriage and Insurance Paid To", where the seller pays for the freight as well as cargo insurance to the named destination. It includes all costs up to that point, including loading on a vessel at a port of shipment in the country of origin. This term is often used for shipments going by sea or inland waterway transport.
The main disadvantage with CIP terms is that the buyer bears all risk until it reaches its final destination; even if it never arrives. For this reason, most international traders will only agree to use CIF (Cost, Insurance & Freight).
What is CIF? Meaning
CIF stands for "Cost, Insurance & Freight", where the seller pays for goods to be shipped, but not for cargo insurance or loading. As with CIP terms, the price includes delivery to a named destination port by sea or inland waterway transport.
The main advantage of CIF terms is that the buyer bears no risk until it reaches its final destination. The disadvantage with CIF terms is that you have to pay extra for cargo insurance and freight costs. As a result, the price of goods under CIF terms is often higher than under other Incoterms like FOB (Free On Board) or CFR (Cost & Freight).
Difference Between CIF and CIP
While CIF and CIP are very similar Incoterms, they do have their fair share of differences in terms of mode of transport, suitability for containerized cargo, transport obligations, transfer of risk, and insurance requirements.
Mode of Transport
Both CIF and CIP terms apply only to non-containerized cargo, like break bulk or project cargoes. CIF implies that the goods are transported oversea or inland waterway transport only, while CIP means that you can use any mode of transport including air freight, trucks, railways, etc.
Containerized Cargo
CIF is suitable for container shipments (FCL) as well as full loads (FCL), but it's not possible to ship containerized cargo under CIP terms. This is because containers are usually not considered to be at risk until they reach their destination port, whereas FCL shipments are insured from the moment they leave the factory door.
Transport Obligations
Shipping goods under CIF implies that the buyer is responsible for making arrangements at origin, whereas under CIP terms, it's up to the seller.
A major difference between CIF and CIP terms is that under CIF, you are obliged to take care of freight payments, cargo insurance, customs clearance, etc. But under CIP terms, the seller has to pay for these expenses. This means that if something goes wrong with your shipment after delivery to the carrier (e.g. loss or damage), you'd have no one else to claim compensation from except the buyer/exporter who sold you the goods in question.
On the other hand, if things go wrong before being delivered to a carrier (e.g., goods are damaged in transit via truck, train, etc.), you can claim against the insurance company or seller (if they failed to insure your goods).
Transfer of Risk
CIF means that risk is transferred when the goods are handed over to the first carrier at the loading port. This transfer occurs even if goods were damaged before being loaded onboard. Under CIP terms though, risk transfers at the destination port. So in case there's any damage to your shipment en route, you'd have to file a complaint with the insurance company or supplier who still has possession of your cargo.
Insurance Requirements
Goods under CIF terms must be insured by both parties; buyer/exporter and seller/importer. The buyer/exporter is liable to provide insurance against the carrier's risk of loss or damage. The seller/importer is liable to provide coverage for any potential event that may occur before the handover of goods at the destination port.
CIF requires insurance for cargo, CIP does not. Goods under CIP must be insured by both parties; buyer/exporter and seller/importer, but only with respect to the period up until delivery of goods at the destination port. If there are no specific additional arrangements made between exporter and importer requiring insurance during transit, CIF is implied so it's best practice to clarify this in writing prior to shipment.
Both parties must insure under both terms, however only the transport leg from the loading point to the destination is covered under CIP which means the insurance company will pay for damages or loss of goods en route at the destination port.