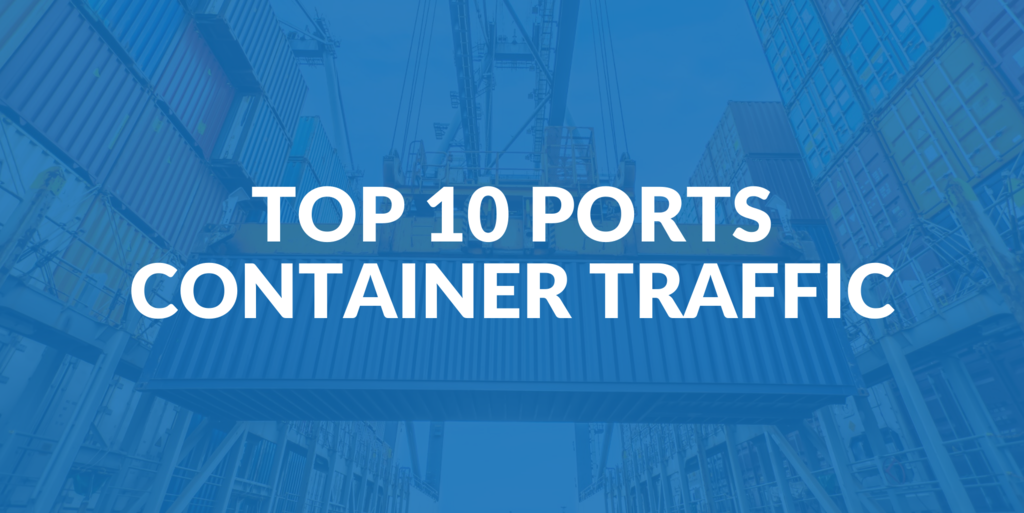 Ports have aided the world in the migration towards large-scale trade. Cargo travels to and from nearly twenty million ports worldwide. Today, we'll discuss the ports with the most shipping container traffic worldwide.
These include the Shanghai Port, Shenzhen Port, Guangzhou Port, Hong Kong Port, Qingdao Port, Tianjin Port, Ningbo-Zhoushan Port, the Busan Port, Jebel Ali Port, and Singapore Port. If you're interested in finding out more about these ports, keep reading!
1. Shanghai Port, China
The Shanghai Port was constructed in 1842 near the junction of the Qiantang, Huangpu, and Yangtze rivers. Due to its strategic location, it handles the majority of trade around the East Coast of China.
In 2010, it surpassed the Port of Singapore as the most crowded port in the world. Then, in 2019, it garnered traffic of 43.3 million twenty-foot equivalent units (TEU).
2. Singapore Port, Singapore
Before 2010, the Singapore Port was considered the busiest port. Since then, it has been demoted to the second largest. It is responsible for 20% of the world's shipping containers that can get to it through both the Indian and Pacific oceans. In 2018, it saw traffic up to 36.6 million TEUs.
3. Shenzhen Port, China
With 27.7 million TEUs, the Shenzhen Port comes third on the list. Numerous ports in Guangdong come under this port. Its location, along the Pearl River Delta, gives it a geographical advantage.
It can also dock over one hundred and forty ships. This port is surrounded by other bodies of water through which containers can reach it, thus accounting for the abundance of traffic.
4. Ningbo-Zhoushan Port, China
The Beilun Port, Ningbo Port, and Zhenhai Port converge to form the Ningbo-Zoushan Port in China. In 2006, the Ningbo Port and Zhoushan Port merged to form what it is now, a mega-port that had 26.4 million TEUs in 2018.
Here, trade between China and ninety other countries is facilitated and carried out. Despite having less traffic than the Shenzhen Port, it has fifty more berths.
5. Guangzhou Port, China
All sea-cargo related business in the Guangdong region of China is dealt with by the Guangzhou Port. This port, called 'the Silk Road on the Sea,' has four thousand six hundred berths available.
The Guangzhou Port is the biggest comprehensive port in all of Southern China. Similar to the Shenzhen Port, it is in the Pearl Harbor Delta. In 2018 it had 21.9 million TEUs.
6. Busan Port, South Korea
Busan Harbor is home to South Korea's most sizeable port: the Busan Port. In 2018 it received traffic worth 21.7 million TEUs. It was initially constructed for small-scale trade with Japan and China.
7. Hong Kong Port, China
The Hong Kong Port is one of the busiest in terms of container traffic and passengers. With its convenient geographical location in the South China Sea, this port saw 19.6 million TEUs in 2018. It is the most accommodating port with facilities that work with any size vessel.
8. Qingdao Port, China
With 18.3 million TEU of traffic in 2018, the Qingdao Port located in the Yellow Sea comes eighth on the list. It is split up into four distinct parts: Guangdong Oil, Qianwan, Dagang, and Dongjiakou. It also has deals with other ports to help to transport as well as to ship.
9. Tianjin Port, China
The Tianjin Port also called the Port of Tanggu, had 16 million TEUs in 2018. Although numerous other Chinese ports have made a list, this one is the biggest port in Northern China. It is responsible for trading between various other countries.
Aside from simply facilitating cargo, this port has also been developed to help with terminal and shipping services. Many notable establishments have agreed to supply the port with the required resources.
10. Jebel Ali Port, United Arab Emirates
The final harbor on this list is one in the United Arab Emirates, specifically Dubai. While it received only 15 million TEUs of traffic, it is the world's hugest man-made port, and it is also the largest port overall in the country.
It was built in 1970, after most others in this list, because those in authority believed that a second port was required at the time. It has won multiple awards for how efficient it runs and is stocked for any sort of situation that could arise. Right now, it is also being utilized as a base, where the United States can dock its warships.