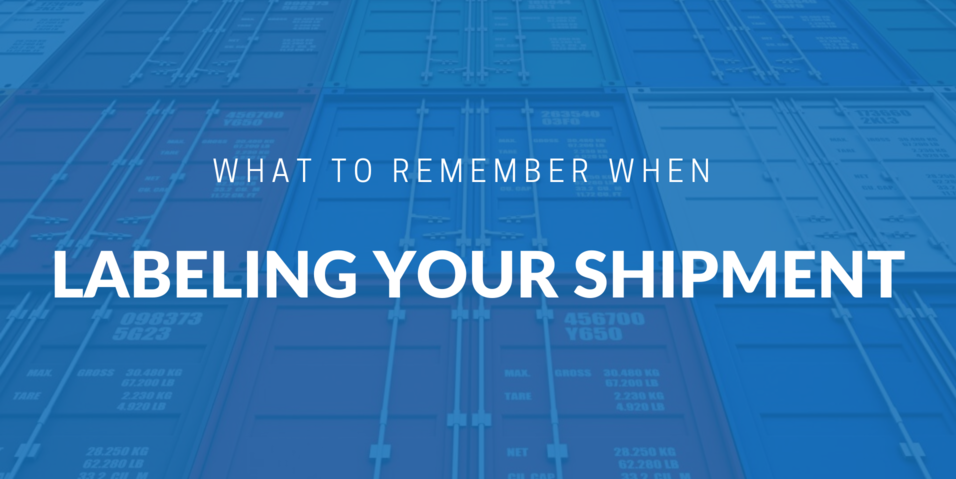 Labeling your goods accurately and effectively is one of the final phases of your shipping process. By then, you may be wary of any extra efforts the whole process is taking. However, be sure to remember this will be among the most important actions you should take towards protecting your goods during transit.
Why you should label your goods
Shipping labels ensure communication between you and each actor involved in your goods' transportation. Your cargo will be handled by multiple parties so you should expect it to be passed on from haulers to customs officers, one means of transport to another and warehouse to warehouse. By making your labeling clear, you will be giving direct instructions as to how to best treat your cargo.
Incorrect labeling can lead to delays, shipping damage or even loss. The fact is lack or improper use of labeling or mishaps can result in high costs in both money and time. Moreover, the US and most other countries' customs requirements include certain labeling standards so ignoring this may even mean your freight won't make it in or out of the country.
Therefore, by correctly labeling your goods you will ensure: * Your cargo meets shipping regulations * Handling is conducted appropriately * Receivers identify your shipment * You are complying with environmental and safety standards
What to include in your labeling
The port and country of origin and destination
Shipping mark (this will facilitate your cargo's identification)
Your shipment's weight (in pounds and kilograms)
Number of items and sizes (both in inches and centimeters)
International pictorial symbols in order to indicate how to handle your cargo
Labeling for fragile and dangerous goods
If you're dealing with sensitive cargo, you should always take special care of your labeling. For instance, when it comes to fragile goods, adding cautionary instructions in English - and other languages if applicable – such as "This Side Up", "Fragile" or "Non-stackable" will go a long way in avoiding your goods being damaged. In addition, if you're shipping perishable goods such as foods or plants, for example, it is paramount it is clearly indicated on the labeling as well as accompanied by clear instructions regarding temperature and humidity limits along with a description of what is being carried.

As far as dangerous goods are concerned, we're sure you understand why labeling is particularly important. Dangerous goods are considered as such when their properties or characteristics pose a risk to health, safety, property or the environment so making sure your carrier knows what is being transported and how it should be treated is an absolute must.
Furthermore, the International Maritime Organization has set forth a categorization for dangerous goods (IMO): there are 9 different classes with subclasses for each one of them. IMO then provides a series of standardized and mandatory labels to be used for either each subclass. These labels are always diamond-shaped, and their size can usually be adapted to the package size. Each package or container should have a label on all four sides indicating the IMO class and subclass or other universal symbols standardized by IMO.

Labeling for LCL and LTL shipping
Although, as stated above, labeling is something you should always prepare carefully when shipping and even more so when dealing with sensitive cargo, there are certain shipping modes that require extra care when it comes to marking.
LCL (Less than Container Load) is carried out by sea, while LTL (Less than Truckload) is an inland transport service. However, what they both have in common is precisely what puts cargo at risk: whether it's ocean freight or ground transportation, in both of these shipping modes your cargo will be transported alongside other shippers' goods. In addition to this, your shipment is guaranteed to go through far more handling points and transit hubs than when shipping with FCL (Full Container Load) or FTL (Full Truckload), so making sure you're communicating correctly with all parties involved should be your priority.