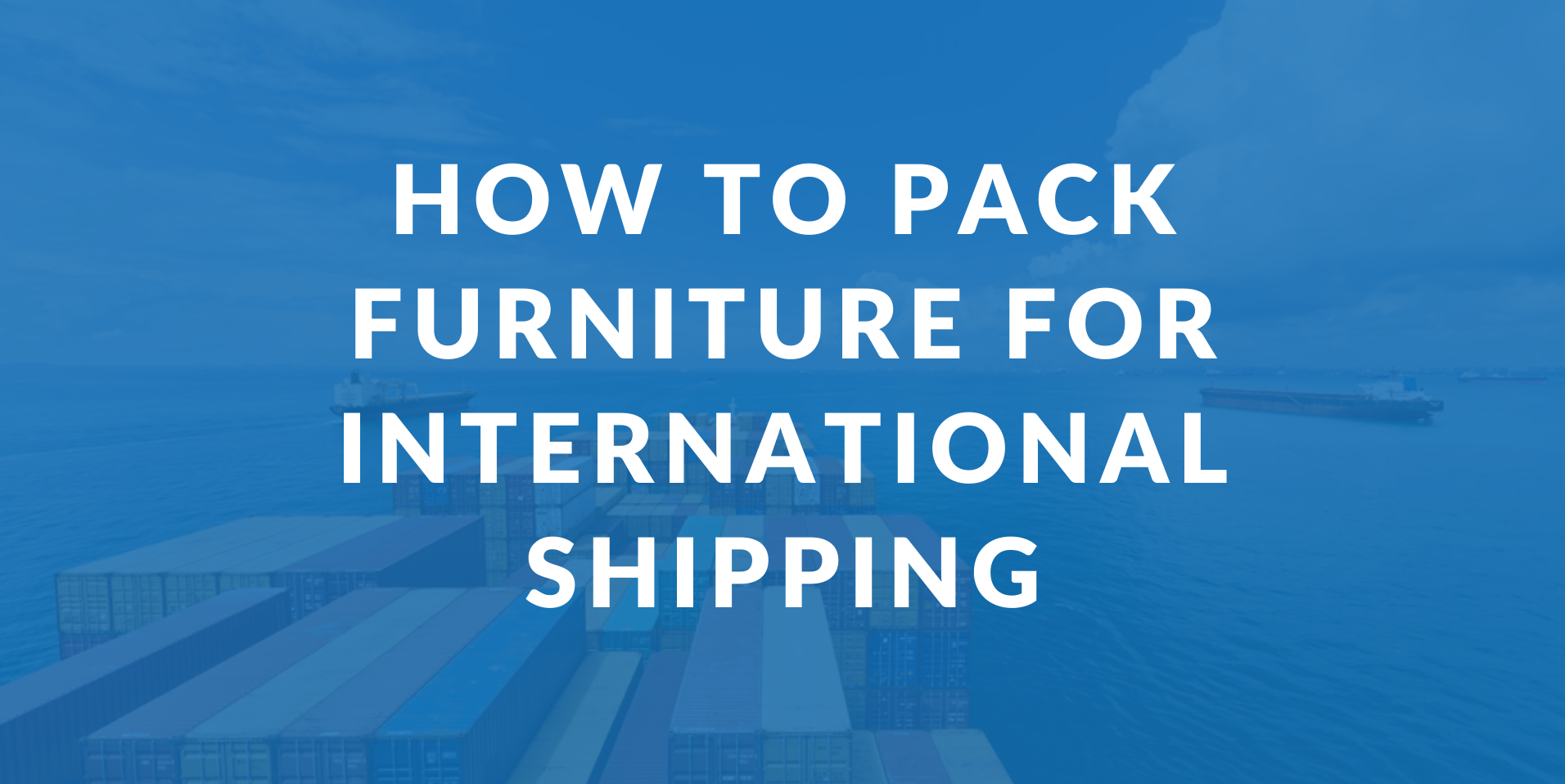 As one of the most economical modes of transportation, ocean freight shipping is the best choice for shipping furniture internationally. Air freight, while fast, can be extremely costly, especially with high-volume shipments such as furniture.
Whether you're shipping furniture for an international move or as an import/export business, this article is for you. We'll go through steps on how to properly prepare your furniture for shipping as well as tips and tricks to ensure your furniture travels safe and you're protected.
Ship furniture with LCL or FCL
One of the first things to decide when shipping furniture is whether it will be shipped via Less-than Container Load (LCL) shipping or a Full Container Load (FCL) shipping. At iContainers, we recommend the following guidelines:
If the overall volume of your furniture is relatively low (between 2m3 and 13m3), you should be shipping with LCL shipping. But if the volume is over 14m3, takes up more than 10 pallets or is hard to palletize (e.g., sofas, mattresses or other plushy items), consider FCL shipping.
For more information, you may check out our page on LCL vs FCL shipping.
How much does it cost to ship furniture
The cost of shipping furniture varies according to many different factors including volume, mode of transportation, the distance between origin and destination, whether you require special transportation equipment, etc.
Our ocean freight calculator can give you a better breakdown of how much it costs to ship furniture.
How to pack your furniture for shipping
If you're shipping furniture that can be dismantled, you should definitely be doing so and compacting them into boxes and then stacked onto pallets. Not only does this allow for easy handling, but it also helps to reduce the overall volume and consequently, shipping costs.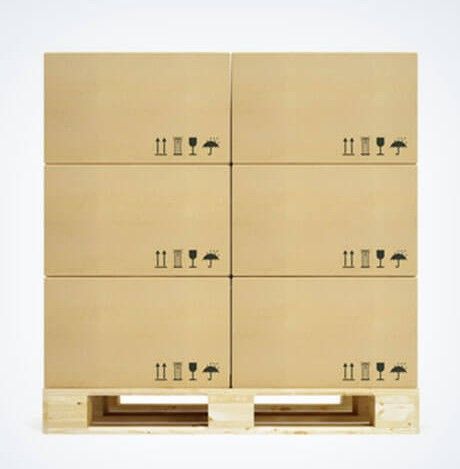 Image courtesy: CargoPress
Other bulkier and plushy items such as sofas should be wrapped with craft paper and then bubble wrapped for added protection.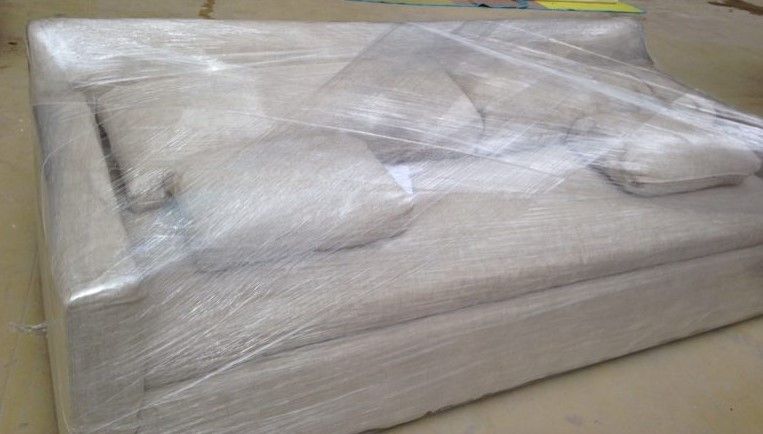 Image courtesy: Dr Sofa
If shipping via LCL, we recommend also shrinkwrapping them to get them as airtight as possible. More often than not, furniture being shipped via LCL is often left at a consolidation warehouse where dust and fumes from forklifts may circulate in the air. These can end up getting stuck to the furniture, which can be difficult to remove.
We generally recommend hiring professional packing services. But if you decide to go it on your own, you'll require tools and packaging material such as:
Cardbox boxes
Padding/cushioning material
Plywood sheets
Ziplock bags
Corrugated cardboard
Tape
Bands/straps
Foam wrap
Pallets*
*When using wooden pallets or even wood packaging material, ensure that they have been treated according to ISPM 15 regulations. This is to prevent the introduction of foreign plant pests into a foreign country. For more, please refer to our article on Measures to Wood Packaging Material in International Trade.
1. Dismantle where possible until the smallest unit(s)
Be it a chair, bed frame, or cupboard, dismantle everything that can be taken apart down to its smallest unit. That means all screws and knobs as well, which you may want to store separately in ziplock bags.
2. Cover sharp corners
Use foam wrap, bubble wrap, or any kind of protective material you have to cover all sharp edges. Sudden movements and changes aren't uncommon during ocean freight and the last thing you want is for a scratch or worse yet, a dent on your furniture.
3. Wrap each part individually
Each dismantled part and unit should be wrapped and protected individually. They should also be stacked one on top of another in your boxes with minimal space between them so that they are as fixed as possible. Fill any empty spaces with packing material or padding.
4. Seal and label
After your box is filled, seal them with adhesive tape. Do this various times on each slit of the box. You may want to also consider wrapping the entire box several times with stretch foil. Label your boxes accordingly with the shipper's and consignee's names and information, as well as handling instructions such as 'fragile'** or 'this way up'.
**Note that items labeled 'fragile' may be charged a higher rate for inland transportation and be subjected to different insurance terms.
5. Number your boxes
Label each box with a number that indicates its sequential order with respect to the total number of boxes that hold your furniture. If you're shipping furniture for an international move, this helps to get organized so you know, for example, that boxes #1 to #10 hold kitchen goods. It also makes it easier to notice when boxes go missing.
6. Stack on pallets
Once all your boxes are prepared, wrapped, and properly labeled, you can begin stacking them onto the pallets. Make sure weight is evenly distributed and there are no overhangs or boxes jutting out beyond the perimeter of the pallets. Use straps to secure your boxes.
Tips on shipping furniture
Take photos. After everything is properly packaged, take photos of your boxes with their numbers visible before and after you stack them onto your pallets. Do this before pick-up. This will come in handy for insurance claims in the event your furniture gets damaged.
Stack to a maximum of 70 inches high. This helps to reduce disequilibrium and the risk of boxes falling over during handling. It also ensures that the packed boxes fit comfortably within the limitations of the shipping container dimensions.
Buy insurance. If you're moving overseas, make sure you have moving insurance to cover damages to your furniture during its ocean freight journey. As an exporter, there are different types of cargo insurance you can choose from to protect your merchandise.
Leave low-value goods behind. If you're relocating, it may be tempting to bring everything along with you for sentimental reasons. But consider leaving low-value furniture behind, especially those that are bulky and can easily be replaced. This will help to lower your shipment volume and costs.
Inspect upon arrival. Once your furniture is delivered at destination, make sure that everything is intact and in condition before acknowledging receipt. This applies to both international moves and importers. Note down any damages and take pictures for your insurance claim.
For more resources on shipping furniture, you may refer to our help center.