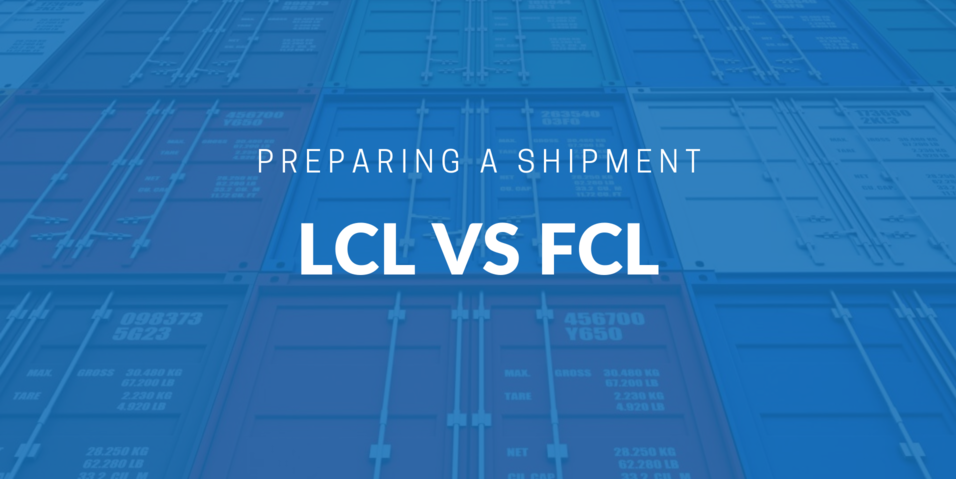 LCL and FCL: What they mean
The terms LCL and FCL refer to the two main modes of container shipments: FCL for Full Container Load and LCL for Less than Container Loads.
An FCL shipment, or full container shipment, as its name suggests, is a shipment that occupies the entire space of a container without having to share it with other merchandise.
LCL, or groupage, as it is otherwise known, refers to shipments that take up only a portion of the entire container, and is shipped alongside other merchandise from other shippers in the same container.
FCL and LCL are commonly-used terms in international logistics, regardless of language.
In this article, we'll discuss the four main differences between FCL and LCL that shippers should consider before booking their ocean freight shipment: volume, security, cost, and urgency.
LCL and FCL: Differences
Shipment volume
Shipment volume refers to the capacity that the transported goods take up. This is usually measured in cubic meters or cubic feet. It is, more often than not, the deciding factor when choosing between LCL and FCL shipments.
LCL vs FCL: LCL shipments are usually the better option for low-volume shipments of between 2 and 13m3. Merchandise of less than 2m3 may also be shipped with LCL under certain circumstances.
FCL shipments tend to be cheaper when the shipment uses more than 10 standard pallets or occupies more than 14m3.
Cargo security
It's natural for all shippers to want their merchandise to be secure when traversing the oceans. But not all shipments require the same level of security.
Certain shipments are more sensitive to changes and movements that merchandise are often exposed and susceptible to during shipping.
FCL vs LCL: An FCL shipment tends to be more secure because it has exclusive rights to the entire container. That means that it is not in contact with cargo from other shippers —as in the case of LCL shipping— and isn't at risk of damage or contamination from other merchandise.
LCL may, however, be the safer choice for certain shipments. Low-volume shipments are more compactly packed, which leave little room for movement.
Shipment cost
Shipment cost is one of the major factors to consider when deciding on whether to ship FCL or LCL. While there are certain guidelines you can follow, there may be a gray area in which the FCL vs LCL decision is blurred.
LCL vs FCL: The general rule of thumb is to go with LCL when shipping low-volume shipments (between 2 and 13m3) and FCL for higher-volume shipments (13m3 and above), even though you may not completely fill the container.
This guideline is, however, by no means set in stone. Under certain circumstances, it may better to ship FCL even for volumes below 13m3. If you're unclear about whether you should ship FCL or LCL, consider both options and speak to your freight forwarder for advice.
The stability of FCL and LCL rates can vary. In general, FCL shipping rates are more volatile in comparison with LCL shipping rates, which tend to be more stable.
Urgency of shipment
It's important to plan a shipment in advance, but things may not always fall in place and circumstances may not permit it. When deciding between FCL and LCL, rates aside, another factor to consider is how urgently your cargo needs to get to destination.
FCL vs LCL: Shipping FCL is usually the better option for urgent shipments or for shipments that need to arrive before a fixed date. LCL is better suited for shipments with flexible dates.
Besides transshipments, LCL shipments are also more prone to delays because of the multiple handling they go through during its shipping journey. LCL shipments must be unloaded and loaded every time they arrive at a transshipment port.
Plus, during high-congestion periods such as the shipping peak season that runs from August to October or the weeks leading up to China's Golden Week, it may be easier to book an LCL shipment than an FCL shipment.