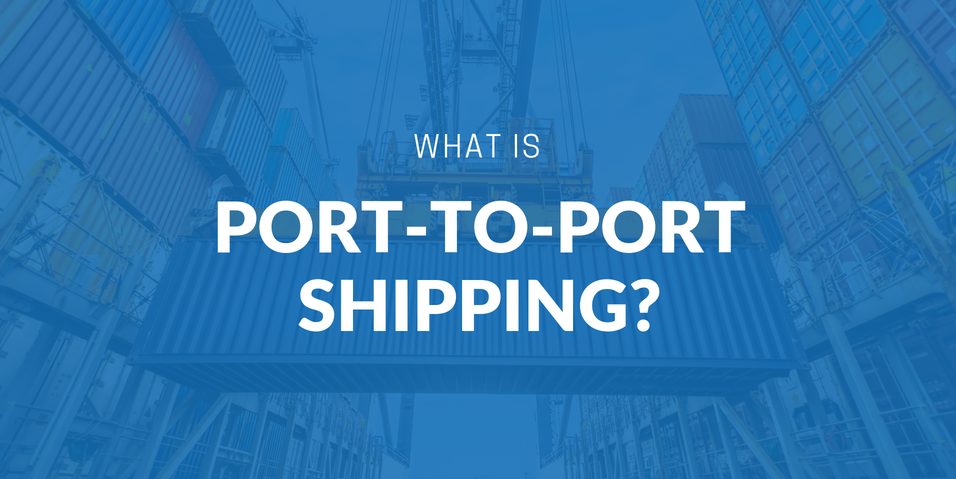 What is port-to-port shipping
In ocean freight transportation, port-to-port shipping involves the middle leg of the entire shipping process. This refers to the transportation of merchandise in shipping containers from the port of origin (also known as the port of loading) to the port of destination (or port of discharge). It does not include pre-carriage and on-carriage transportation services.
Given the volatile and precarious situation shipping lines are often faced with at sea, there lies a certain unpredictability in this portion of the shipping process. This is largely why this tends to be the most expensive part of the end-to-end shipping process.
Later in this article, we'll go into the different factors to consider when shipping port to port.
Port-to-port vs door-to-door shipping
While door-to-door shipping is commonly used, there are certain circumstances under which a shipper may prefer to ship port-to-port instead.
Port-to-port shipping differs from door-to-door shipping in that it does not include transportation services of the cargo from its origin, such as a warehouse or production center, to the port of loading. Likewise, upon arrival, transportation of the merchandise to the end destination is not included.
Because of the excluded on-carriage and pre-carriage services, port-to-port shipments are usually recommended for experienced shippers who have the knowledge and expertise to handle the other aspects of the shipping process conveniently. This includes being able to manage documentation, clear customs at origin and destination, arrange for inland transportation and warehouse, etc.
Included services in a port-to-port shipping quote
Ocean freight rate: This is the freight rate at which your cargo is being transported.
Security fee: This is a fee charged by ports for maritime security purposes.
Container rental: This covers the rental of the shipping container for cargo transportation.
Free time for loading and unloading: This is the time from container retrieval to return at terminal for loading and unloading of cargo. Free time for this varies from destination to destination.
Cargo tracking: Carriers and freight forwarders may offer track and trace services. At iContainers, we also offer automated notifications that keep you updated with your cargo's status.
Issuance of documents: These apply to documents such as the Bill of Lading.
Document submission fees: This includes documents such as SOLAS VGM and other destination-specific filings (eg. ENS filing for shipments to the European Union).
Certain port-to-port shipping rates may also include origin or destination handling charges. These tend to be the case for shipments going to countries such as Venezuela and Bangladesh. If you are unsure, check with your freight forwarder or agent at destination so that they may better guide you.
Factors to consider when shipping port-to-port
Inland transportation
Depending on the origin location and end delivery point of your shipment, you'll need to arrange inland transportation to get your shipment to and from the ports of loading and discharge respectively.
This may include trucking services, rail services, or a combination of both. If arranging inland transportation in the US, we recommend you to consider the recent trucking shortage and plan your shipment in advance.
Port schedule
With no pre- or on-carriage services, you will be in charge of making sure your shipment is delivered to the port in time to make the sail date and picked up from the port of origin upon arrival to avoid delay charges such as demurrage.
When arranging your drop off and pick up, make sure to check the port authority's schedule and opening hours to avoid unnecessary inconveniences. Keep in mind you should look out for the port or terminal's opening hours, any public holidays, and/or possible port workers' strikes.
Customs clearance
In order for your cargo to ship, you will need to go through customs clearance at origin. This process is generally not included in port-to-port shipping rates and reservations. Depending on your merchandise, this could prove to be a tedious process.
We recommend you to get in touch with an experienced and reputable customs broker so that they may advise you on any special documents you may be required to file, such as specific documents for health or pharmaceutical goods, etc.
Likewise, the proper paperwork and documents must be filed to customs authorities at destination before you are cleared to pick up your cargo. Documentation can vary significantly from destination country to destination country.
To avoid potential problems and confusion, it would be best to hire the services of an agent at destination. Destination agents specialize in the import laws of your destination country and can help you with the paperwork needed as well as advise you on the amount of taxes and duties you are due to pay.
Cargo insurance
Cargo insurance is an essential part of any shipment and is not included in port-to-port shipping. All shipping carriers are legally obliged to carry what's known as carrier liability for all shipments they transport on board their vessels.
However, this provides only very minimal coverage and is certainly not enough to cover your losses even in the event of the slightest damage to your cargo.
Given the unpredictable nature of ocean freight shipping, proper cargo insurance is always recommended to ensure you have sufficient coverage for if your cargo is damaged at sea. For more information, do give our article on types of cargo insurance a read.
Local charges
Local charges such as the Bill of Lading release fee, related port charges, wharfage, etc are generally not included in port-to-port shipping rates. However, as mentioned earlier, certain port-to-port quotes may include local handling charges at origin and/or destination.
Port-to-port schedules
Port-to-port shipping schedules depend on many factors. These range from carriers' schedule availability, type of shipment, ports of origin and destination, whether you're shipping FCL or LCL, etc.
If you are searching for port-to-port schedules and quotes, you may do so on iContainers. All you need is to enter a port of origin, destination, and whether you'll be shipping FCL or LCL, the latter of which will require you to enter your total volume. For more information, you may refer to our Help Center article on how to quote and book ocean freight online.