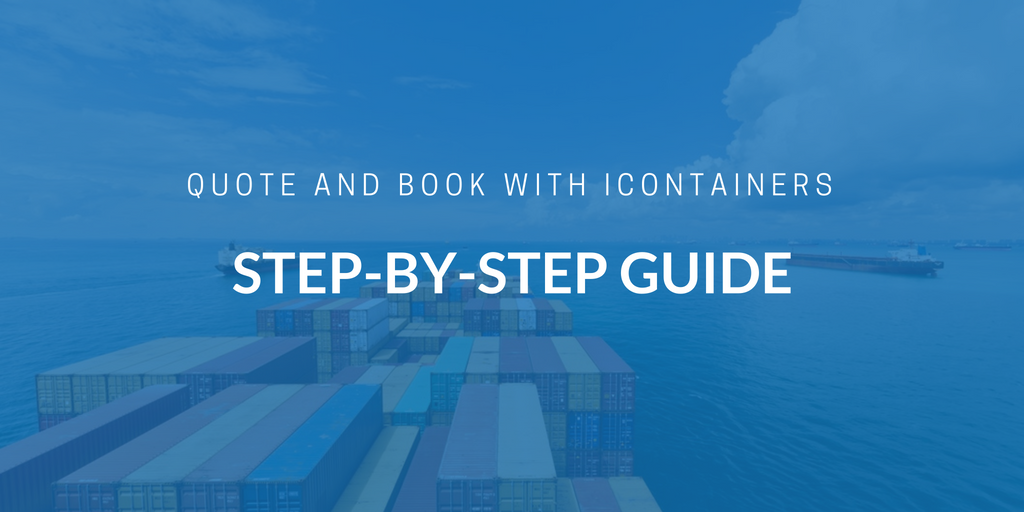 Quote and book your online shipment with iContainers in 6 steps
Quoting and booking an ocean freight shipment with iContainers is really easy. Our ocean freight calculator allows you to compare over 250,000 rates covering more than 40,000 routes all over the world in a matter of seconds.
The entire booking process takes approximately 5 minutes. Here's a step-by-step tutorial to guide you.
1. Enter your shipment details
First, enter your shipment origin, destination by typing in the city and selecting from the drop down list.
Next, decide if you'll be shipping a FCL (Full Container Load) or LCL (Less than Container Load).
In this step, you'll have to indicate the number of containers and type of containers. You may select from a 20-foot container, 40-foot container, or a 40-foot high cube container.
If you're shipping LCL, you'll have to enter the weight and volume of your cargo, as well as the number of packages. Here's a guide to help you calculate your LCL shipment.

2. Compare rates and add services
In this step, you'll have access to all the available rates for the route you have selected. You'll see that different carriers have different routes and transit times.
Add the services you require at origin and/or destination, such as pick up, delivery, port charges, etc. The prices will update automatically according to the services you have selected. The rates are sorted by the lowest price by default, but you may change that.
Choose the quote that best suits your needs and click 'add optional services' to go to the next step.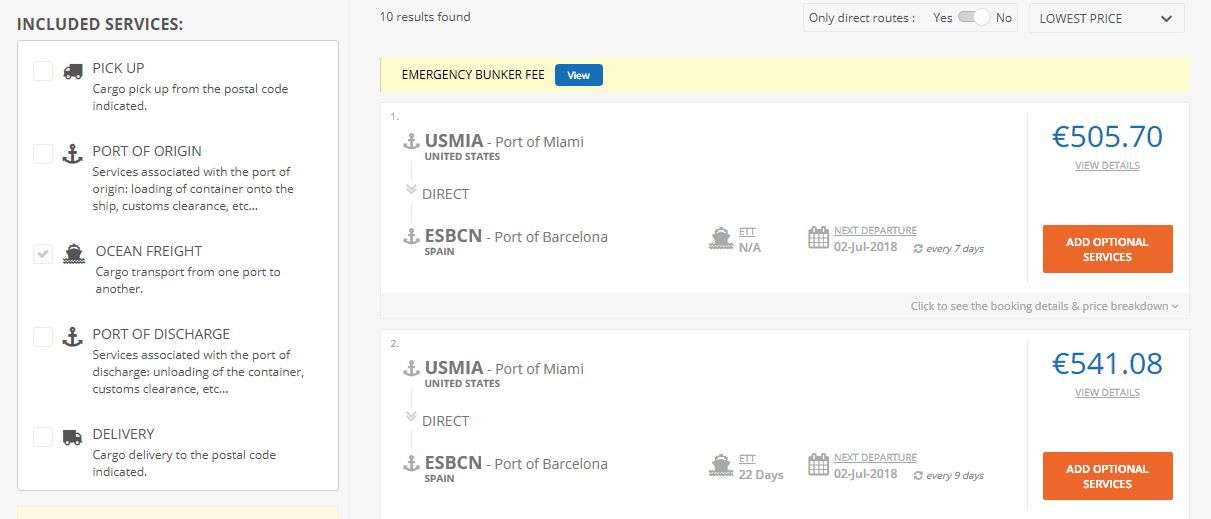 You may now select additional ocean freight services such as shipping insurance, Bill of Lading issuance, and the management of the different certificates you may require depending on your shipment type, etc.
Read more about our additional ocean freight services here.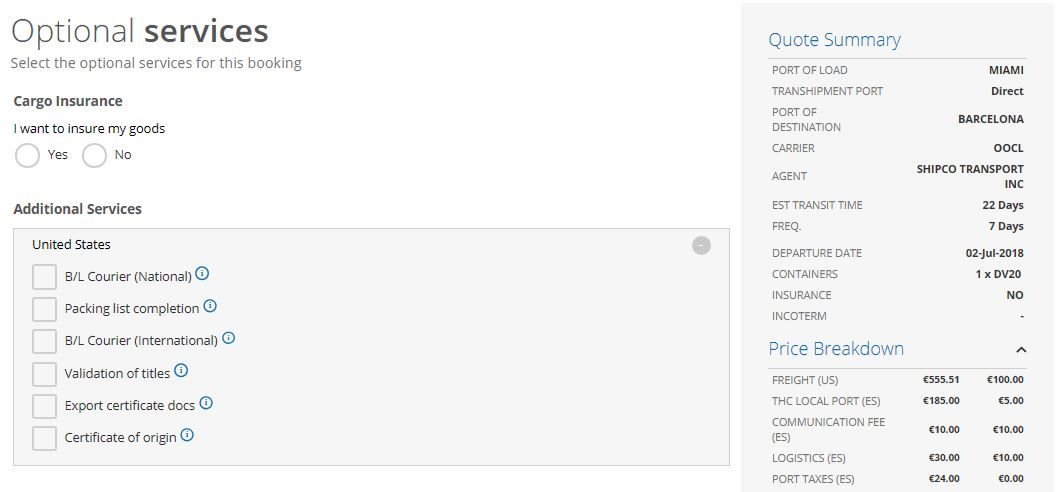 4. Confirm departure date
Select your shipment's departure date.
Important: Availability must be confirmed by the shipping line. We will submit your booking to the shipping line once you have completed the booking and made payment.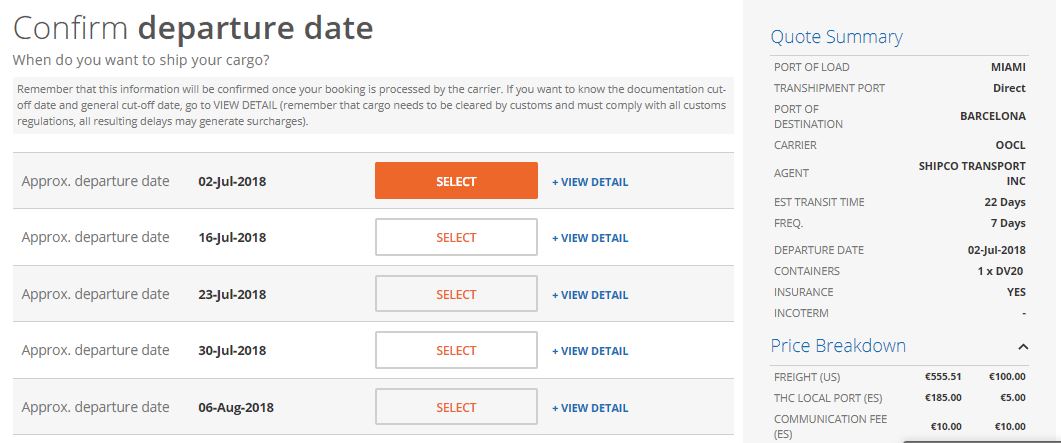 5. Confirm warehouse storage selection
Indicate if you require your shipment to be stored at our warehouse either at origin or destination by checking the correct boxes.

6. Enter your billing details and complete payment by bank transfer or credit card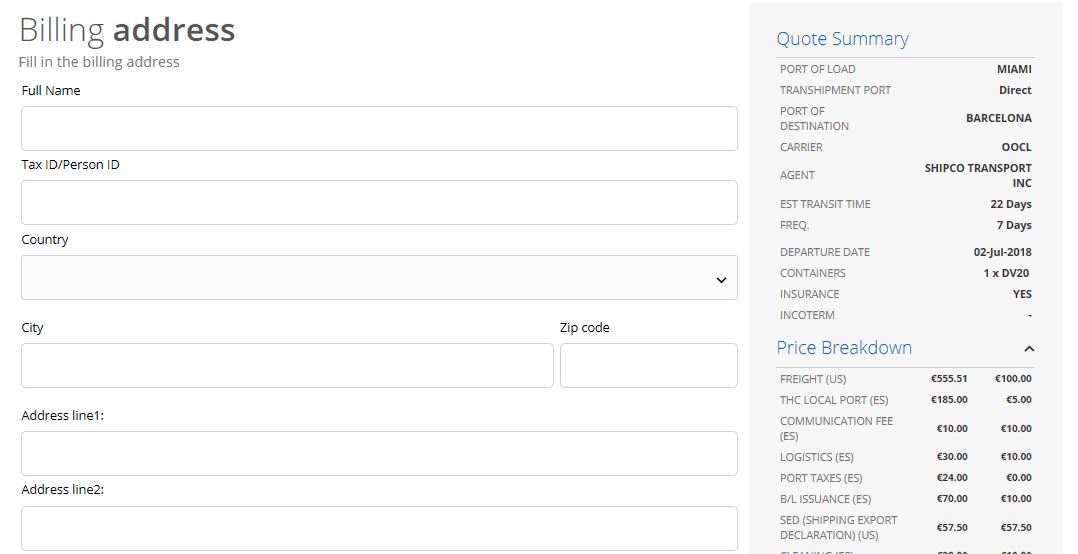 Congratulations! You've successfully booked an ocean freight shiment online with iContainers! Our consultants will be in touch with you shortly to begin coordinating your shipment. Want a glimpse into what will happen next? Check out this article on what will occur after your booking.